Whatfinger: Frontpage For Conservative News Founded By Veterans
"The Best Mix Of Hard-Hitting REAL News & Cutting-Edge Alternative News On The Web"
November 19, 2014
Ominous Warning: "Get A Gun, We Can't Protect You!" - St. Louis Cop
By Susan Duclos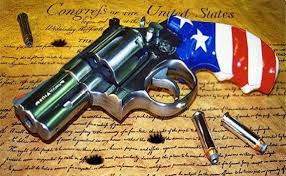 With the FBI warning that the Darren Wilson verdict on the shooting of Michael Brown in Ferguson, Missouri, would "likely" lead to violence, the National Guard being activated, a State of Emergency being preemptively declared, and the DHS and other federal, state and local authorities prepare for "nationwide protests," a "Concerned Cop" from St. Louis sends out an ominous warning "If you don't have a gun, get one and get one soon. We will not be able to protect you and your family. It will be your responsibility to protect them. Our gutless commanders and politicians have neutered us. I'm serious, get a gun get more than one, and keep one with you at all times."

From StLouisCBSlocal:

The identity of the commenter or their status as a police officer was not confirmed by independent sources. But this comes as the FBI released an intelligence bulletin stating a grand jury decision "will likely be exploited by some individuals to justify threats and attacks against law enforcement and critical infrastructure."

Missouri Gov. Jay Nixon also signed an executive order activating the Missouri National Guard on Monday afternoon.

Comments on the St. Louis Coptalk forum have labeled protesters in Ferguson as "terrorists" and ridiculed local businesses that have showed public support for activists in the area.


With recent news of the DHS gearing up in Missouri, with photo evidence that caused one Navy vet to be fired and threatened for exposing their presence, it is critical that when the verdict comes out, should Wilson be found to have not acted inappropriately, people take the correct steps to protect their families because as this "Concerned Cop" has stated, the police won't be able to do that job for you.

Many are taking this advice as gun dealers report "brisk" sales ahead of the grand jury decision.












comments powered by

Disqus